"The Original Recyclers"
Family Owned and operated since 1945
Residential & Commercial
Furniture Refinishing | Furniture Finishing | Furniture Reupholster
Furniture Upholstery | Furniture Fabrics | Furniture Repairs
Furniture Touchup | Furniture Caning
For Antique Furniture | Vintage Furniture
Contemporary Furniture & New Furniture & Pianos
Antique Furniture - Vintage Furniture - Contemporary & New Furniture restoration is our specialty. Bringing new life to old furniture and household items helps preserve family heritage and tradition. It also takes less than 10% of the environmental impact of manufacturing a new item.
We are dedicated to high quality workmanship and giving close attention to our customer's personal tastes and needs. Pride in our craftsmanship and trying to satisfy all of our customers are the foundation of our business.
We are the experts in antique furniture rebuilding/repair, custom upholstery, furniture design and furniture refinishing. Our reputation is well known and respected throughout the Seattle Washington area. In fact most of our business is referral and repeat customers.

If you're looking for custom color furniture matching, durable furniture
finishes, selection of furniture fabrics or high quality furniture repairs Gabel's Custom Refinishing & Upholstery is the premier choice for you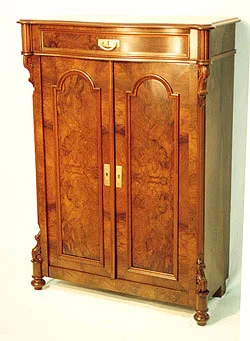 Call us at (206) 784-2305 to make an appointment.
Reviews






Absolutely Fabulous! - Sep 10, 2008 Very personable, easy to work with, and first class workmanship. They reupholstered a family club chair with tufting, buttons, and piping...not a mistake to be found! A real gem in Crown Hill.
HOLY COW!!! YOU DID A PHENOMENAL JOB ON THE CREDENZA AND FILE BOX DRAWERS. Your guys did absolutely fantastic work.
Thanks much!
Patty
(P.S. I haven't forgotten about the gift basket -- I am just crazy busy lately :}
I will not forget.)
Patty Roberts - Bloom Firm Administrator, Reed Longyear